When you decide to upgrade your flooring, there's a lot to consider. If you already have carpet installed, it's easy just to replace it with new carpeting. You know how it wears. You're used to the maintenance. Why change it up?
Yet sometimes you're ready for a change. Maybe you've been living with your current flooring for years, and it's time for something new.
Do a little research and you'll find many new products that could make a great addition to your home decor. Why not cork floors?
Why choose cork floors for your home
What do you think of when someone mentions cork? Wine bottles? Bulletin boards? Flimsy panels that chip away easily?
Put all of that aside. Cork flooring is becoming more popular than ever before because they're durable, beautiful, and eco-friendly.
If you've always wanted a wood floor, consider cork instead. Cork technically is a wood flooring product. In order to produce cork flooring, manufacturers harvest cork tree bark. But unlike hardwood that requires the entire tree to be chopped down, cork bark is removed from the tree, with it growing back after several years of time. That means manufacturers can continue using the same trees again and again, for decades at a time. In fact, some cork trees can live as long as 800 years!
For homeowners trying to go green, this is the perfect product to consider for your flooring. It's eco-friendly and sustainable, making it a great choice for your home.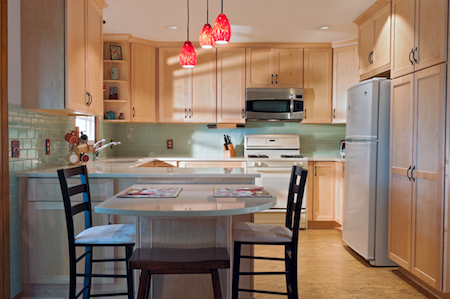 What are the benefits of using cork for flooring?
In addition to being a sustainable, eco-friendly product, cork flooring has a wide array of benefits that make it an ideal choice for many homeowners.
Durable – people install hardwood because it stands up to the abuse your family dishes out each day. It's no different with cork flooring. It resists scratches and cracks, and is water-resistant too. Of course, it won't withstand flooding, or large puddles of water that go unnoticed. But if you care for it and wipe up spills immediately, you'll love the way it looks.
Comfortable – homeowners love cork because it's soft underfoot. If you stand for long periods at the kitchen counter, the softness can help alleviate back pain. That's because cork has a natural cushion when compressed, it bounces back. That also makes it a great choice for aging in place. It looks just as beautiful as hardwood, but if someone falls, it has a bit more give. That cushion also provides a natural acoustic insulator, meaning you won't have the noise factor associated with some laminates and engineered hardwoods.
Fire-resistance – in Colorado, fire-resistance can be a big deal. Cork only ignites at very high temperatures. And if it burns, it releases fewer toxins into the air than other types of synthetic flooring. Better for the environment; better for your health.
Health – speaking of health, cork is also a natural product, meaning it won't have the volatile organic compounds (VOCs) associated with other types of flooring. Cork is naturally resistant to mildew and mold, and has an anti-microbial product as well. Because it's natural, it doesn't off-gas when installed into your home. Just be conscious about the installation process, avoiding glues and adhesives that may negate the natural qualities.
Aesthetics – if you're looking for a product that can go with all of your decor, last for years, and look great too, look no further than cork flooring.
Another plus … processing
One of the reasons cork is growing in popularity is because of its sustainability. Because the cork tree can live hundreds of years, it won't impact the environment like other flooring choices.
But the sustainability of cork flooring stretches beyond growth and harvesting. The manufacturing process for cork also generates very little waste. That's because the cork used for flooring is actually a byproduct of the cork harvested for wine bottles. The cork left over is ground finely and bound together to create cork flooring panels.
The manufacturing process is where textures, patterns, and colors all come to fruition. If you want the most natural, eco-friendly product available, talk with one of our sales team who can point you in the right direction.
Is cork a good choice for kitchen flooring?
Are you sold on cork? Ready to install it?
Still nervous about installing cork in your kitchen?
Don't be. We find that cork flooring holds up well in most households. Of course, only you know your lifestyle, and what a typical routine looks like in your home. But we find most novice chefs really aren't as messy as they imagine.
If you spill, wipe it up. Sweep your floors regularly to keep particles from grinding into the finish. Mop with a damp cloth regularly to avoid stains from penetrating into the flooring. And that's it.
Just a little common sense goes a long way.
Plus, you'll get the added bonus of having one of the softest flooring choices you can put into your kitchen decor. If you like to spend the weekends baking away, or love cooking dinner for the family, you'll notice the difference on how well your body enjoys standing on cork flooring.
What are the disadvantages of cork flooring?
An article on cork flooring wouldn't be complete if we didn't tell you about the disadvantages. There are just a few.
Cork is susceptible to damage. Like every flooring, the rougher you are to the surface, the more it will show damage. If you don't wipe it up, it has the possibility to stain. If you drop something hard, it might dent or knick the surface. If you wear high heels, you might puncture the finish. If you scrape something heavy across the floor, you might damage the surface. In other words, think about your actions before you do it.
Cork is soft, which means it can be dented. If you drop something sharp, you will be able to see it. If you place a piece of furniture on it with pointy legs, it may leave a mark. If you're worried about indentions, consider placing support underneath the legs first.
Cork may not work with pets. Especially if your dogs love to run around the house playing chase. Every time they dig in for traction, they risk scratching the surface and leaving permanent marks.
Cork isn't waterproof. While it can withstand the occasional spill providing you wipe it up quickly, it isn't entirely watertight, especially with standing liquid. Cork can have optional sealants, which will increase water-resistance. But keep in mind that it can warp, curl, and discolor if water is a continuous problem.
Cork can fade. If your floors get consistent sunlight spilling across, discoloration may occur. Consider blocking sunlight with curtains or blinds. And if you have multiple hours of direct sunlight every day, it may be wise to consider a different flooring option.
Is cork flooring the best choice for your home? Only you can decide. But if you're ready to see the latest options for cork floors, stop by our showroom today.