Hardwood floors often top a homeowner's dream list. They may envision them for years before finally remodeling and installing them throughout their homes.
Yet finalizing the decision is often the easy part. Then comes the decision process of what species of hardwood, what color of stain, and what flooring patterns to install.
Every plank of hardwood is unique. It comes with its own patterns, textures, colors, and designs. How you install it will ultimately determine its final look. It will create an aesthetic you'll be proud to call home.
Not sure of what hardwood floor pattern to create? Have you always assumed hardwood planks are a "one size fits all" kind of choice? Think again. TYou can create many different patterns from hardwood, which will change the look of your room as it runs across the floor.
Straight
Straight hardwood floor patterns are considered the norm in the industry. It's the most common pattern you'll see when you walk into a home. That's primarily because it's the simplest and least expensive method for installation.
The hardwood planks are laid together side by side, parallel to each other along the length or width of your room.
This pattern creates a clean, contemporary design that enhances the look of the hardwood flooring material. It uses the hardwood most efficiently, sticking with the hardwood planks as they were initially cut and designed.
Diagonal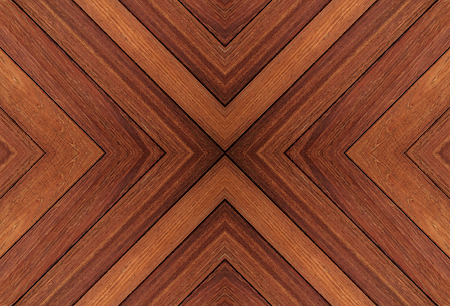 When you walk into a room, and the planks run parallel to the length or width of the room, your mind moves up to the overall aesthetics of the room. But when you install hardwood planks diagonal, you instantly notice a more unique, luxurious look and feel inside the space.
The planks are installed parallel to each other, but instead of being installed along the length or width of the space, they are laid at a 45-degree angle to the wall. This creates a striking visual effect that isn't expected. It gives anyone who enters a moment to notice the floors time to pause and take in the beauty of the flooring.
This is perfect for any homeowner who wants something a little different, yet still wants to stick with the functionality of traditional hardwood, while efficiently utilizing the product.
Random
For an orderly, traditionalist homeowner, they might not be able to imagine flooring in any other way but straight. But for homeowners who desire to change things up a bit, random placement may be more your style.
You'll still install your hardwood floor based on the length or width of your room. But instead of using the same planks in a repeating pattern, you'll mix things up a bit.
Select planks in different lengths and widths. Mix the color of two different hardwood colors – light and lighter. Then install them in a varying pattern. This mixture of boards will give your room a more rustic feel. It's customizable, allowing you to play with final looks and patterns, and create something uniquely your own.
Parquet
It should come as no surprise to discover that parquet flooring dates back to 16th century France. Parquet is derived from the French word "parquetry", meaning "small compartment." These wood floors used country estate marble and stone, which was difficult and expensive to replace. The most famous comes from a single room in Versailles, created by Louis XIV. The parquetry is distinguishable by large squares laid on a bias, with diagonal squares within.
Today, parquet flooring is distinguishable by a repeated geometric pattern, giving it a checkerboard pattern. You'll sometimes find even more sophistication to the complex patterns within each square.
Cheap imitations have been created in recent times to make this expensive and incredibly detailed flooring choice easier to install. But it can never replace the sophistication of a truly original parquet flooring.
Chevron
This pattern is often referred to as diagonal because wood planks are laid diagonally, alternating direction across the space.
The chevron pattern is effective when each of the planks is identical in size and shape, and appears in columns going one direction. Then the next column is laid facing the opposite direction. The edges are always flush against one another, giving it a seamless look.
Herringbone
Close to the chevron design, a herringbone pattern uses the column sections laid on the diagonal, but mixes it up by placing them in a zigzag pattern. This makes the blocks appear to be stacked like a staircase rather than running flush from side to side.
This is a sophisticated installation challenge, not one meant for DIY projects. The more complicated a pattern, the more you should search out a reputable installer who has laid various hardwood patterns in homes before.
Basketweave
One of the most complex patterns for hardwood floors is the basketweave, consisting of both rectangular and square shapes. To install, it starts with two rectangular pieces laid down as a T-shape. Additional T-shapes are fed in on either side. The gaps will be filled with the square shapes.
This pattern is continued across the floor, resembling a basketweave then it's completed. The basketweave design works well in mid-size rooms when you want to give an illusion of grader and space. This flooring works on optical illusion, pushing out walls and making the room seem bigger than it is. It can lend sophistication to long, narrow rooms such as a hallway.
Finishing work
While you might have a specific pattern in mind, custom hardwood flooring work can create something uniquely your own. Complete the project with hand-crafted molding. Or build a pattern around a medallion or centerpiece. Stick with hardwood, or build it around stone, metal, or glass for a one-of-a-kind look.
Note that any additional patterns or finishing work required for installation will only add more time to the job. If you need your final flooring in place by a certain time, it's better to check in with a flooring servicer first. They can help you create a pattern perfect for your home, building a spectacular display that will add style and uniqueness that's all your own.
How can we help you find the perfect hardwood flooring pattern to suit your needs?