It's easy to fall in love with area rugs. They can bring a pop of color, changing the aesthetics at any time simply by rolling it into place.
Area rugs are such a part of room design, you'll find them everywhere. They're easy to change periodically without reinvesting entirely in a new floor. Or change them by the season – it's a great way to freshen up a room.
Hardwood, vinyl, tile – area rugs work great on many different flooring surfaces.
But what if you don't have a hard surface? What if you have wall-to-wall carpet in place? Can you place an area rug on top of carpet?
Can you put an area rug on top of carpet?
An area rug on top of carpet seems a bit redundant. But there are many reasons why it might be the perfect choice for your situation.
Renters often use area rugs to make their home cozier, and to bring their own personality into the space. Property managers often install the low-grade carpet that can wear out quickly. If it's looking a little threadbare soon after you move in, why not ramp up the quality of your rental unit by adding an area rug into the mix?
Or maybe you own your home and you're planning a remodel … eventually. Your carpet is a little worn down, but now isn't the best time for a remodel. An area rug is the perfect way to upgrade your aesthetics without the major time and money commitment of a significant remodel.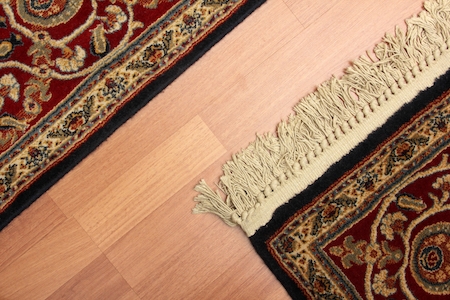 Have a large room you'd prefer to divide into workable spaces? That's a great reason for introducing an area rug. Place one underneath a dining room table and you have an instant eating nook. Use one underneath a coffee table, surrounded by a couple of chairs, and you have a quaint space perfect for intimate gatherings. If you can dream it, you can do it. Use an area rug as your inspiration.
Or maybe you just like change. You love your soft, plush carpet. But occasionally, you want to change things up a bit. You're looking to make your home cozier in the winter. Or maybe fresher, airier in the summer. An area rug is just what you need to make it happen.
Whatever your reason for wanting to use an area rug over carpet works. It's your home, your design, your aesthetics. If it works for you, go for it.
How to live with an area rug over carpet
When you lay an area rug down on a hard floor, it conforms to the surface below and creates smooth transitions as you move across the floor.
When you lay an area rug on carpet, you're placing soft on soft. It's much easier to catch your toe underneath the area rug, creating a dangerous situation.
While placing an area rug over carpet is possible, doing it properly is essential to avoid problems.
Preventing ripples
When you place a rug over carpet, it will naturally have a tendency to move around. How much movement you'll get depends on the carpet and the area rug. Sturdier rugs may move and slip, while softer area rugs may ripple and fold in on itself. Regardless, an area rug will shift with a soft surface underneath unless it's properly anchored into place.
Wrinkling can occur when you step on one portion of the area rug and it shifts underneath the weight. It causes one side to move while another stays in place. You might see a "wave" as it moves to a new position.
The easiest way to solve this is by making your furniture work for you. If the area rug is creating a sitting area, use tables and chairs to anchor the rug's edges into place. The aim is for weight to be placed on all four corners of the rug, to keep it tight and avoid having it be a tripping hazard.
Using a non-slip pad
If you've ever used an area rug over hardwood flooring before, you know there are non-slip pads for everything. Including adding an area rug over carpeting. They generally are referred to as carpet-to-carpet pads.
They are specifically designed to help keep the area rug in place over a soft surface, to help keep it from rippling as you walk over it through your daily activities.
Additionally, these carpet pads can help keep the carpet underneath the area rug safe from damage. As the area rug shifts and moves, it can damage the fibers of your carpet. With a pad in place, it gives an added layer of protection.
Their effectiveness varies greatly depending on the carpet you have in place and the area rug you purchase. This is why relying on an expert's help to provide guidance can help you make a wise choice to ensure both safety as well as gain a long life from both your carpet and your area rug.
Finalizing your selection
Layering a rug over carpet takes a little more thought than just buying what you love in the store. You can't just lay it down because you like it. It requires a little planning to make sure it works well overall.
Will any area rug do? We advise our clients to stick with high-quality fibers to ensure the best results over time. Going with a rubber-backed area rug can damage carpet fibers and allow moisture to build underneath. Natural fibers ensure breathability, keeping all layers of your flooring to remain safe over time.
Pay attention to textures
The texture of the carpet should work well with the surface of the area rug. A plush shag area rug with a Berber carpet might work. A low-profile rug and carpet will also work well together. Consider fibers that add depth, yet still stay in the same aesthetics to create natural flow.
Consider color palette
While you can't do anything about the color of the carpet you'll be laying the rug over, it should still be considered as you select the color of your area rug. Clashing colors and patterns will add more chaos to the room. If you have questions about getting hues and tones to match, a color wheel can be your best friend. It's a great way to select shades that complement, never overwhelm.
Let rugs complement your decor
An area rug should always fit the aesthetics and personality of the room. Select a size that works well with the furniture it's bringing together. Never select it just because you like the color. It should bring out a natural feeling in the way your room flows.